Inception
Why:
Earlier post
Shutter Island
Why: Martin Scorsese. Leonardo DiCaprio. Cinematography
Toy Story 3
Why: Pixar is the greatest film production studio of all time
Despicable Me
Why: Steve Carell and his minions
Date Night
Why: Steve Carell and Tina Fey (the funniest woman in America)
Overrated:
Kick-Ass
Why: It was good, but nothing special
Decent:
Dinner For Schmucks, The Crazies, The Runaways, Nowhere
Boy, Resident Evil Afterlife
Haven't seen yet but heard:
The Other Guys, Scott Pilgrim vs. The World, Machete, The American
Predictions:
Wall Street 2: Money Never Sleeps Why: Michael Douglas returns as Gordon Gekko, his Oscar-winning role from 1987's hit
Wall Street
. With him is Shia LaBeouf, and the filmed is being helmed by Oliver Stone, who also directed the first part twenty years ago. Also, I think this is the first time a best actor winner is doing a sequel with the same character. If, and I doubt it, he wins an Oscar for this role - again, that will make film history.
The Social Network Why:
The good: director David Fincher (
Fight Club, Se7en, Curious Case of Benjamin Button
), and writer Aaron Sorkin (
The West Wing, A Few Good Men
).
The I-don't-care-about-because-the-good-is-enough-to-make-me-watch-this: It's about the invention of facebook.
Hereafter
Why: Clint Eastwood reunites with Matt Damon after last year's
Invictus
(great film) in this supernatural thriller written by Peter Morgan (
The Queen, The Last King Of Scotland, Frost/Nixon
).
Due Date
Why: Robert Downey Jr. (who can do no wrong, in film) and the guys who made
The Hangover
. Can't wait. Robert Downey Jr. has two hit franchises that are worth over a billion each (Iron Man universe,
Sherlock Holmes
) for two different studios (which pretty much makes him the biggest star in Hollywood right now); and Todd Phillips is go-to guy to make adult mainstream comedies. It's obvious that this movie is just a way for the studio to cash in on the team's value, but I think it will be a good one regardless.
Little Fockers
Why: Ben Stiller will always be funny because he made
Zoolander
. So I'll watch anything he is a part of. And its a third part in the Meet The Parents franchise.
Black Swan
Why: A thriller - directed by Darren Aronofsky (
Pi, Requiem for a Dream, The Wrestler
) and starring Natalie Portman (one of the best actresses of this generation) and Mila Kunis - set in the dangerous world of ballet dancing.
Paul
Why: It's a comedy about aliens in America - two british, and one real alien. Probably the funniest movie this year.
Harry Potter and The Deathly Hallows
- Part 1 (November 2010), Part 2 (July 2011)
Why: Because its the biggest film franchise of all time. And because Daniel Radcliffe (Harry Potter) got paid over $40 million for this two-part film - it puts him in the list of highest paid actors with Leonardo DiCaprio, Johnny Depp, Tom Hanks, Robert Downey Jr. - based on the last of the Harry Potter books. So obviously it'll make a billion dollars, or two. And yes it'll be good too.
How Do You Know
Why: Veteran filmmaker James L. Brooks (I like his movies, but I will always remember his as one of the creators of
The Simpsons
) returns to the romantic comedy-drama genre, starring Reese Witherspoon, Paul Rudd, Owen Wilson, and Jack Nicholson.
You Will Meet A Tall Dark Stranger
Why: I'm not sure, but I hope it will be good. The cast is great (exception: Frieda Pinto from Slumdog), and it's Woody Allen, who is the best-worst director who may or may not have lost his touch. But then he makes a film like
Vicky Cristina Barcelona
. So let's hope its more like that, and less (or not at all) like
Whatever Works.
True Grit
Why: The Coen Brothers. Matt Damon. Jeff Bridges. Josh Brolin. Oh, and it's a western too.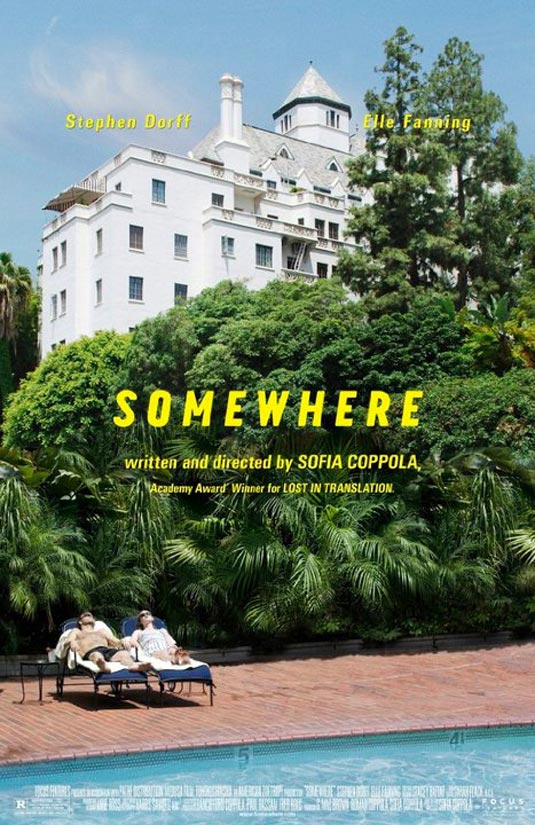 Somewhere
Why: Sofia Coppola (Francis Ford Coppola's daughter, not that she needs the introduction though) wrote and directed this film about "A hard-living Hollywood actor re-examines his life after his 11-year-old daughter surprises him with a visit." She already won The Golden Lion at the Venice Film Festival last week, which is the highest prize to be given to a film at the festival.