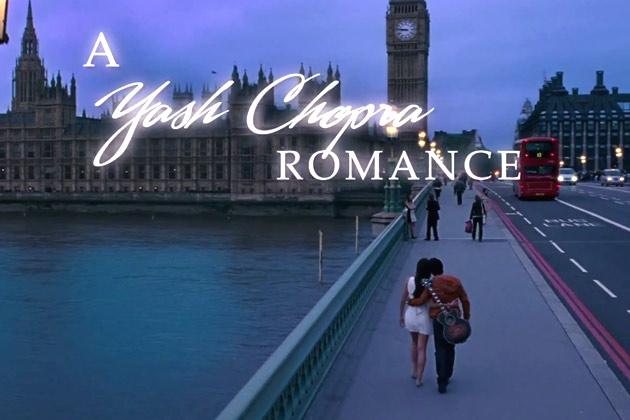 I don't really review or write about hindi films. That is Mansi's department. And it's been a while since I wrote my opinion about any movie. I don't like watching a film from the point of view of a critic, because once you turn on that lens, you end up seeing the trees for the forest.
So I stopped having opinions about movies. I became a viewer again, and it was that viewer who wanted to give you a second opinion on Yash Chopra's Jab Tak Hai Jaan.
I'm not going to review the film. I'm not going to find holes in the plot or discuss the acting. I'm only going to tell you what this film means to me.
Mansi's already covered the film. If you agree with her, you're not going to like what I'm about to say.
I loved JTHJ - from the first shot of Shahrukh on his Royal Enfield to the post-credits montage about Yash Chopra. I can watch this movie once a week. I am completely biased in my opinion about this film. The first time I saw it (the day it came out), I went into the theatre wanting to love this movie. Not because it was Yash Chopra's last film. Not because it's Shahrukh Khan back as a romantic hero. But because it was a "Yash Chopra Romance". This film is an old fashioned love story wrapped in modern packaging.
Some people don't like JTHJ because it doesn't top its predecessor: Veer Zaara. I loved Veer Zaara. But not the first time I saw it. I hated the ending. Chopra waits for the right moment to show us that Zaara was in fact living for Veer back in his hometown. I was 15 when I saw that movie, and I thought: what a waste of 30 years. If only they knew that they were sacrificing their lives for each other.
I didn't want to watch that movie again. It was too depressing. Is this what Chopra wants us to believe? That love can wait? That love can suffer quietly for decades? That love is too powerful to be separated by borders? That's not something you want to put into the minds of teenagers.
And of course after watching the film again in my 20's, my opinion changed. It's as if the film waited for me to love it. And I do.
And having said that, I prefer JTHJ to Veer Zaara. Because of one reason: Samar is more real than Veer. Veer is complete fiction. A lover who loves unconditionally? Give me a break. That is too filmy. Samar, on the other hand, has anger. He gets upset. He would rather die to prove a point than sulk in depression. He is a man who holds a grudge with God. THAT is real.
Sure, Shahrukh looks too old to pull off a 25 or 28 year old. And he knows that. Shahrukh knows is no longer fit to play a 25 year old lover. But who says no to Yash Chopra? For his critics, I must say he did not hide his age in any scene. He did this film for Yash Chopra, and I'm glad he did. No one else could play Samar Anand. This character was written for Shahrukh. Even though I'm aware of his actual age, I still believed he was his character. Moreover, Samar Anand was not just one character. He was every Yash/Aditya Chopra lover that Shahrukh as played in the last twenty years.
Now, I must defend the story. I personally can't like a film unless I like the story. My criteria for story-legitness is simple: character development. If I believe that the character's reaction to something makes sense, I ignore the fact that this story was written by a person. If the character feels real, I believe the story is real and I'm just getting to witness a real story.
For that reason, I completely believed this story. Meera's relationship with God was misguided, but I still understood why she did it. Samar's arrogance and deep-seated anger was believable. The contrast in personalities between a 21 year old Meera and a 21 year old Kiara made sense. All three characters were extremely flawed. Just like real people.
JTHJ is not an important film because it is Yash Chopra's last directorial venture. It is an important film because it is a celebration of his entire career. Before he died, Mr. Chopra stated that this was his last film. For a director who has given classics in almost every genre, it is a bold statement to say he is done making films. Even Woody Allen at 77 says he will make films till he dies.
Maybe he was tired. He was 80 after all. Or maybe he felt that with Jab Tak Hai Jaan, he was leaving a self-replenishing legacy. JTHJ has everything Yash Chopra has shown in his movies. Love. Action. Drama. Yaadaash ka khona. Love triangle. Generations of love stories.
He left us with gift. A gift to his enormous multi-generational audience. And of course he used Shahrukh. Shahrukh and the women in his stories were his muse. He even brought back his favorite couple back - Rishi and Neetu - to his farewell epic. Using just 5 characters - Samar, Meera, Kiara, Meera's mom and her boyfriend - Chopra told us three different love stories. What a great swan song for a career full of class love stories. Remember this film title was previously a simple "A Yash Chopra Romance"? That title says it all.
And the final title, Jab Tak Hai Jaan, was not just a title, but a commitment. From Yash Chopra and Shahrukh Khan. If Yash Chopra can make a romantic film at 80, that too an old fashioned and modern romance in one, then Shahrukh can play an old fashioned and modern romantic hero.
Love is complicated. It is angry. It is irritating. It holds grudges. But it also has patience. It also has hope. That is what Yash Chopra showed us in Jab Tak Hai Jaan.